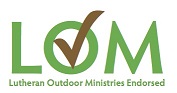 Endorsed events are events that the LOM Education Committee recognizes as an educational opportunity for our members. These events are programmed by outdoor ministry sites and others and are endorsed by LOM as a worthy program that members should consider registering as a participant.
Please see the events calendar for a list of endorsed events.
Fee reductions to member organizations are available by application.   Click on the link below to learn more.  To apply to endorse your event, please complete an application form by clicking below. Upcoming Endorsed Events are listed in the calendar.