I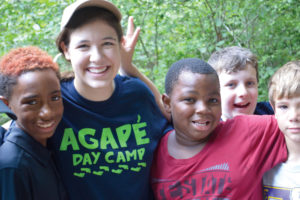 n 2012, LOM started a new recognition program for its members.  The Innovative Program Award recognizes an exciting program at one of our LOM sites by showcasing it at the annual conference.  The winner also receives a $1,000 cash award.  Click here for the application form. The winners of this award are as follows:
2017- Agapé + Kure Beach Ministries' (NC) Reach 100 program.  "Reach 100" was designed to fill slots which have not been filled in previous years of summer registration.  "Reach 100" is a board initiative started in April of 2016.  It is a two-year program designed to initially reach out into their local community and provide a positive Christian resident camp experience to children in severe financial need or are homeless.  "Reach 100" is a partnership between several local school counselors (who are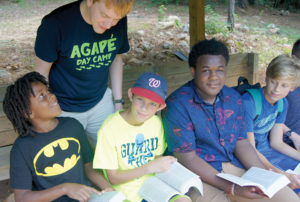 identifying families and children), local businesses and business leaders (local chamber of commerce members), the camp's traditional donor base, and Agapé + Kure Beach Ministries.  The children are mainstreamed into each week of camp and a variety of programs. Local school counselors have identified 60 homeless students between grades 3 and 8.  These counselors are doing all the communication with the families, collecting forms and assisting the families with transportation to camp.  One of the unique characteristics of this program is that funds being raised cover the entire cost of camp and are not at the subsidized camp fee rate.  Each camper requires $600.00 to be raised to attend one week of camp.  Business community leaders have offered to supply items like sleeping bags, backpacks, water bottles, towels, cloths.  The $600 also includes funds on the camp store card for each camper.In their application form, the camp indicated the program "has been powerful for staff, donors and our community.  We had college students apply to work on summer staff because they wanted to work at a camp making this kind of impact on children.  Second, one of the joys has been to help these children be like anyone else.  Counselors do not even know which of their campers are Reach 100 kids.  Reach 100 is the most exciting, impactful, and positive program initiative we have ever launched."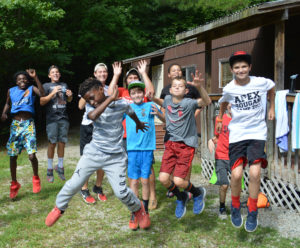 2016-  "Living Water Ministries Bridge Building Project" by Living Waters Ministries and the two ELCA synods in the lower peninsula of Michigan.  The goal of the program is to develop young leaders for the church and world with a raised awareness and understanding of the realities of racism.  In the grant application, C.J. Clark, executive director, stated, "It is our hope that raising young leaders in the faith formative community of camp can be a place where real change in the world and church can begin.  By exploring systematic racism, we hope to inspire campers to a greater sense of responsibility to make change as they grow into adults of faith and leaders in the church and world."   To learn more about this program, watch this video:  https://www.youtube.com/watch?v=3x32AEZof90
2015 – "Jacob's Well Leadership Initiative" by Voyageurs Lutheran Ministry (MN). More and more campers and summer staff members are coming from non-church backgrounds; they are not the people sitting in the pews and may not know the language of "the church". If we continue to use traditional church language or assume that our campers have a basic understanding of the Bible, we are going to miss the chance to truly share God's love with them. This project begins to address this challenge by engaging our year-round leadership and summer staff in how to talk about God, Jesus, faith, and church with those who are coming to our sites but not coming from our congregations. It also challenges our summer staff to see how they can be leaders in the church in traditional and non-traditional church settings, both now and in the future.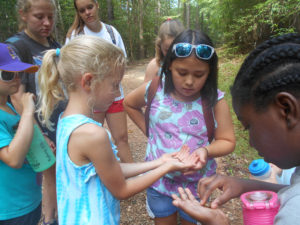 2014- "Vocation Discovery Program" by Upper Missouri Ministries (North Dakota).  This program gathers a group of young adults to create community, cultivate character, clarify calling, and connect with culture. The program has been designed to disciple the participants in 3 areas of life : grow in their relationship with God, understand their Identity as a son or daughter of God, and grow in their relationship capabilities with other people.
2013- "Camp for Grieving Kids" by Camp Frederick (Ohio).  This program allows kids who are grieving the loss of a parent the opportunity to come together to support one another in the safe setting of camp.
2012- "Piece Together" by Crossways' Imago Dei Village (Wisconsin).  Piece together is a program created for families with members on the autism spectrum.  Through catering to the dynamic and unique needs of families affected by autism, Piece Together provides respite for parents, space for siblings to be with other siblings, and opportunity for those with autism to grow and learn.