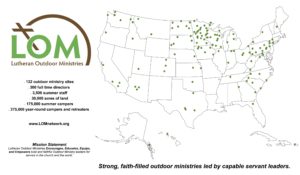 Looking for a camp, retreat center, or conference center? Locate and contact outdoor ministries, camps, retreat centers and conference centers affiliated with the Evangelical Lutheran Church in America below. Specific information about an outdoor ministries' programs, facilities, staff, American Camp Association (ACA) accreditation, or job openings can be obtained by contacting the organization directly. Most camps provide the following:
Summer Program: Each summer, camps, retreat centers and conference centers from across the country provide experiences for people of all ages. Programs include youth camps, adult and family camps, trip and adventure camps, day camps, servant learning events and more. Through worship, study, games, and activities, participants will hear and see how active their faith can be, learning how to live and work together in an intentional Christian community.
Year-Round Programs: Most camps, retreat centers and conference centers provide special programs throughout the entire year. Whether it is through weekend retreats, outdoor schools, conference meetings, or older adult programs, outdoor ministries strive to minister to the whole person. You might develop and host your own program, attend a sponsored event, or just want to get away from the busyness of the world for a weekend. Outdoor ministries has a place for you.
Facilities: "Camp" is not just rustic cabins. While caring for creation through outdoor education or building relationships on a ropes course or just having fun at the pool, facilities are as varied as the setting. They might include summer cabins, retreat centers for youth and adults, or high comfort conference centers for meetings. Whether it is mountains, lakes, prairie, ocean, or desert, outdoor ministries can provide you with a life-changing experience.
With over 120 to choose from, you will find programs and sites for people of all ages!
Lutheran Outdoor Ministries (by state)

---
---
---
---
---
---
---
---
---
---
---
---
---
---
---
---
---
---
---
---
---
---
---
---
---
---
---
---
---
---
---
---
---
---
---
---
---
---
---
---
---
---
---
---
---
---
---
---
---
---
---