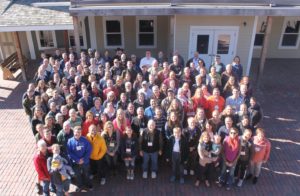 CLICK BELOW TO REGISTER FOR 2017 LOM CONFERENCE

Join us for the LOM Annual Conference, which is held each fall. The annual conference is a gathering of LOM members and features continuing education, networking, fellowship, and time for renewal.  This year's annual conference will be held on November 6-10, 2017, at Beaver Run Resort in Breckenridge, Colorado.
Gather with outdoor ministry professionals, speakers and leaders to dive into the theme of "Living Into Reformation: Practicing Relevant Faith". Together we will explore our theme verse, "Now the Lord is the spirit, and where the Spirit of the Lord is, there is freedom" (2 Cor. 3: 17). Join in conversation about reforming, restoring and refocusing our ministry practices, in the freedom of the Spirit, to engage in relevant, Christ centered ministry in today's world. Keynote speakers include the Rev. CeCee Mills (African Descent Ministries, ELCA) and the Rev. Hans Wiersma (Augsburg University).  The conference schedule allows for plenty of time for discussion with peers in ministry, as well as dynamic worship and fellowship.
The annual conference is the perfect time to connect with old friends, meet new partners in ministry, share ideas and get excited about all the opportunities that our work in Lutheran Outdoor Ministries has to offer. Learn more about all the amazing projects taking place around LOM, spend time getting to know exhibitors and partners in ministry, bid on amazing items at the annual LOM auction and enjoy beautiful Breckenridge.
Travel Information: 
Arrival:  Fly into Denver by 2:30 p.m.
Departure: Fly out after 10:30 a.m.
Round trip shuttle fee $60.00 via charter bus (2 hours shuttle from Airport to Beaver Run)
Cost:
Rates Per Person:  (Late Fee add $100.00 after October 10)
Single Occupancy:  $750.00  (Paid in full by midnight October 19)
Double Occupancy-Motel style room:  $575.00  (Paid in full by midnight October 10)
Two Bedroom Suite:  $575.00  (Paid in full by midnight October 10) includes 3 beds, 2 baths, housing is based on 3 or 4 people per suite
Financial Assistance Information:  There is a limited amount of money available from Lutheran Outdoor Ministries (LOM) to reduce the registration fee for LOM members in need.  The fee reductions vary in amount. Outdoor ministry organizations or individuals will be required to pay part of the registration fee. If you are interested in financial assistance, please review the 2017 Scholarship Request Criteria and App Form.
***IF YOU ARE SEEKING FINANCIAL ASSISTANCE, PLEASE DO NOT REGISTER BEFORE GETTING APPROVAL AND THE APPROPRIATE DISCOUNT CODE.***
Major Sponsors of the LOM Conference: