Other Events

Endorsed Events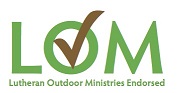 Endorsed events are events that the LOM Education Committee recognizes as an educational opportunity for our members. These events are programmed by outdoor ministry sites and others and are endorsed by LOM as a worthy program that members should consider registering as a participant.
Fee reductions to member organizations are available by application. To apply to endorse your event, please complete an application form by clicking below. Upcoming Endorsed Events are listed below, too.
---
Monday, September 11 - Tuesday, September 12, 2017:  Welcomed and Included
(Extended to Wednesday, Sept. 13 for Camp Professionals)
This retreat will guide church leaders and camp professionals in best practices for ministry with youth, young adults and their families that identify as LGBTQ. Topics surrounding gender and sexual orientation are big in society but avoided in many churches and camps. By providing a safe space to educate and create dialogue, church leaders and camp professionals can begin to wrap their heads around what the youth and young adults (and their families) need and how we can respond with welcome and inclusion.  For more information, including a biography of the facilitator and registration details, go to http://cjhcenter.org/Welcomed. 
This event is endorsed by Lutheran Outdoor Ministries (LOM). If you are an LOM member and need scholarship assistance, please contact Randy Youngquist-Thurow at eventscoordinator@lomnetwork.org.