Outdoor Ministry Curriculum

If you have a young child going to camp and an older child going on a trip, they might just talk about the same things in Bible study! An annual summer camp curriculum is developed around a specific theme. Outdoor ministries from across the country use the curriculum for the basis of their program throughout the summer. The materials include theme-related Bible studies, worship resources, and supplementary activities for five age-groups: lower and upper elementary, junior and senior high, and adult. All curriculum materials are provided on a CD-ROM, reproducible for local use.

Preview Curriculum Here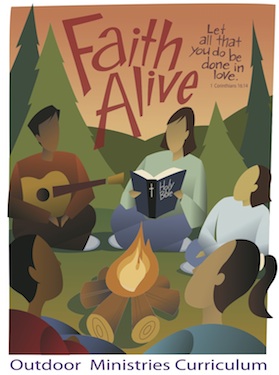 Faith Alive! NEW
Theme Verse: Let all that you do be done in love. 1 Corinthians 16:14
Faith Alive, the 2013 Outdoor Ministries curriculum, focuses on five traditional spiritual practices of the Christian tradition—Bible (study), worship, prayer, hospitality, and service—as entrées into the way of Jesus lived in the lives of his followers. These spiritual practices are also traditional components of a camper's experience in an outdoor ministry setting – either at camp or in a church day camp setting.
A word about faith practices is in order. First, they are what they say they are, that is, practices. This implies that to be effective, they must be practiced—daily, consistently, purposefully. As with any practice, one goes through periods of boredom or a lack of initiative in the spiritual practices. This is normal. But if the practices are going to become a regular part of one's routine and yield the fruit of renewal, it is important to keep at them even through the dry times. Second, a practice may be new to you and thus not second nature. At first, you may feel awkward engaging in the practice. This also is normal. But soon, as you participate daily, the practice will become second nature and a part of who you are. Soon you may find you feel empty when you miss your practice even one day. Finally, many of the spiritual practices are interrelated, that is, as you engage in one practice, you find yourself also engaging in another almost as a matter of course. That is certainly true in this study. It is simply impossible to engage in Bible study without a prayerful outlook and attitude. One cannot engage in service without studying what the tradition says about hospitality, and so forth. As stated above, one practice may well lead to another, which leads to another, which leads to another. Perhaps this is one reason faith practices hold out the promise of spiritual renewal.

Spiritlife!
Theme Verse: "There is one body and one Spirit, just as you were called to the one hope of your calling, one Lord, one faith, one baptism, one God and Father of all, who is above all and through all and in all." Ephesians 4:4-6
The Spirit was present at creation. Jesus promised the gift of the Holy Spirit to be with his followers after his death. The Holy Spirit, he said, would remind them of who he was and would continue to teach them and guide them. After he died and was raised from death, Jesus came to the disciples, who were in fear behind locked doors. In that room where he found them, Jesus breathed on them and said, "Receive the Holy Spirit" (John 20:22). As in the beginning God when created and enlivened the first human being by speaking and breathing, so by his breath and words, Jesus gave new life to a humanity recreated in his resurrection. Day by day the Holy Spirit continues with us. Our life is in the Spirit—it is Spiritlife.
---

Jesus Chooses Us
Theme Verse: "You did not choose me but I chose you." John 15:16
The God who chooses us, chooses us out of this giving-self-away kind of love in order that we might live in a similar way with each other. The momentum begins with God, moves toward us, and spills over in the way we interact with others. This is not a goal we spend our lives trying to achieve. This is a new way of living that comes as a gift from God.
---

Keeping the Earth
Theme Verse: "For the creation waits with eager longing for the revealing of the children of God." Romans 8:19
Even in the midst of sometimes huge environmental challenges in our world, we can begin to view "creation's eager longing" as a gracious invitation from our God. And we know that when God calls, God also supplies what we need, to fulfill that call. We are being invited to know ourselves more deeply, as God's children. We are being invited to more truly understand our place in God's world. We are being invited to go forth more hopeful, and inspired, to look for ways to "green" our homes and our congregations and more faithfully care for creation.
---
Regular Price: $315
LOM Contributing Members will receive a 20% Discount on the 2012 Curriculum ($250) and 25% Discount on 2011 & 2010 ($235).
Contributing Members: Log in via the Member's Section tab next to LOM logo above and select Curriculum Catalog portal.